Discussion Starter
·
#1
·

Three decades ago, a group of French former professional racers decided to establish their own company to design and manufacture advanced motorcycle helmets. They called it Shark Helmets, and today, the brand is one of the most internationally recognized and highly respected companies among motorsports enthusiasts and regular riders. People prefer Shark helmets for their stylish look, great functionality, comfort, and, of course, safety. The independent European SHARP program called Shark helmets some of the safest in the industry giving many of the models the highest 5-star safety rating.
The company's designers continue creating new prototypes from scratch and tweaking existing models to offer their improved versions year after year keeping the lineup fresh and up-to-date. You can be sure to find a suitable helmet in the Shark Helmets catalog at MOTORCYCLEiD.com that will meet or exceed all your expectations for quality, safety, comfort, wind noise reduction, functionality, and looks.
Shark Helmets® - Skwal 2 Blank Full Face Helmet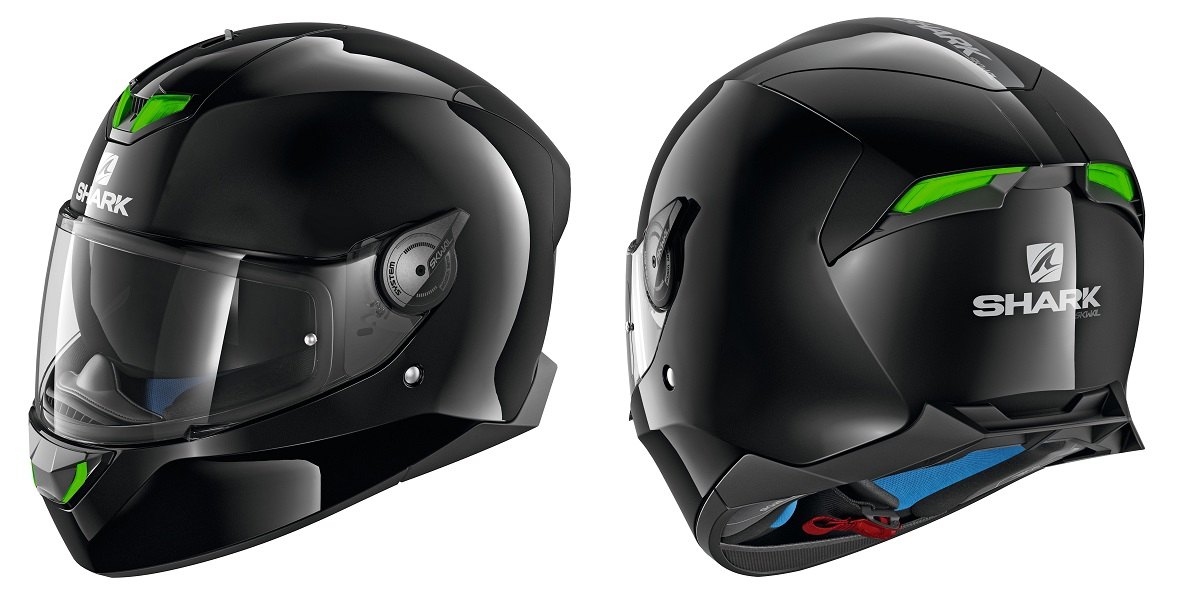 Features:
• Updated aerodynamic design enhanced spoiler
• 3 Brighter Green LED lights with Blink/Steady mode
• Rechargeable battery: 5 hours of continuous operation, 10 hours while blinking per charge
• USB cable included
• Pinlock® MaxVision® visor included
• Autoseal system
• Integrated sun shield
• Bamboo treated interior for triple effectiveness: antibacterial, anti-sweating, and hypoallergenic
• Revised visor mechanism
• Shell material: Thermoplastic
• Helmet Certification: DOT Approved and ECE Approved
Shark Helmets® - Ridill Drift-R Full Face Helmet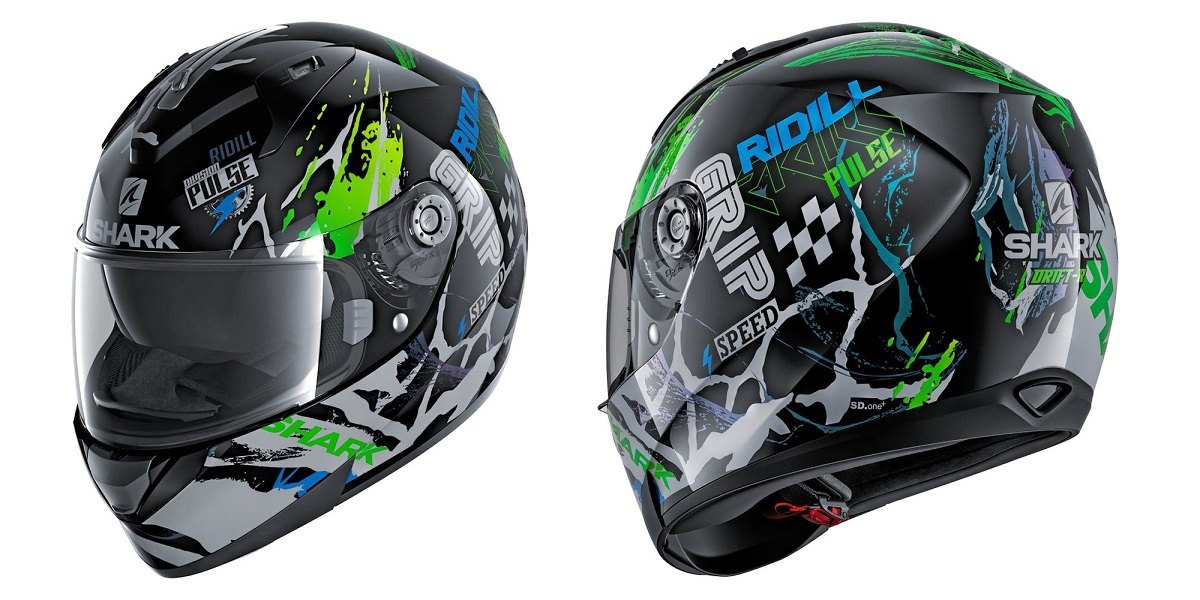 Features:
• Lightweight Poly-carbonate shell
• Aerodynamic design for soundproofing and stability
• Optimized and adjustable ventilation system for cooling and comfort
• Integrated inner sun visor
• 2.2 mm Pinlock® ready ultra flexible and resistant visor
• SHARK Easy Fit: Optimal comfort for persons wearing glasses
• Removable washable antibacterial interior lining
• Helmet Certification: DOT Approved and SHARP Tests
Shark Helmets® - Race-R Pro Carbon Replica Lorenzo 2019 Full Face Helmet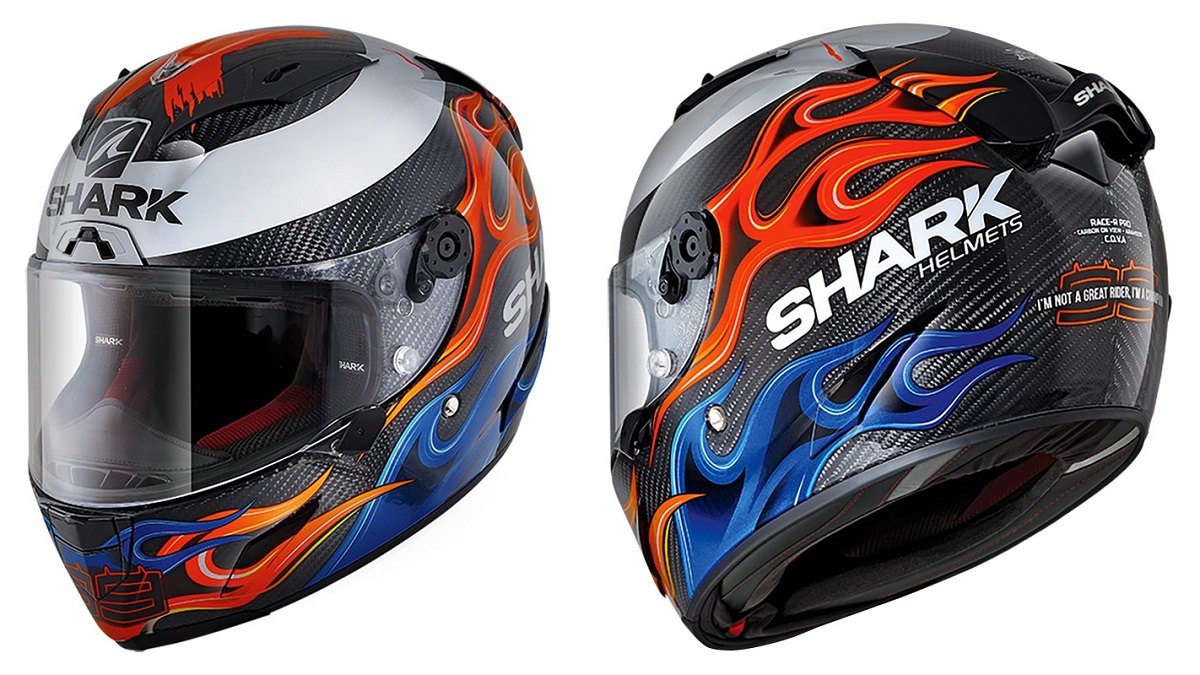 Features:
• Super Light Weight Carbon/Aramid Fiber shell with outstanding shock absorption
• Approx. 4.5 dB(A) quieter than the standard RACE-R PRO in wind tunnel testing
• SHARKTOOTH® ready
• Shark Easy Fit glasses system offers wearers a comfort lining which has a pre-fitted system to accommodate all types of glasses
• Spoiler CFD
• Double D chin strap
• Magnetic chin strap end
• 4 Anchor points for main shield
• Variable density Shield: minimum thickness 3mm, maximum thickness 4.25mm, with new anti-scratch/anti-fog coating
• Thermo shaped comfort lining
• Removable and washable antibacterial liner
• Cheek pads are interchangeable for custom fit
• Neck roll with neoprene sections for elasticity and water resistance
• Breath guard with new attachment system
• Chin curtain
• An Optics 1 category flat visor without any visual distortion thanks to a variable thickness (4.2 / 2.8 mm)
• Double back spoiler to ensure both aerodynamics and stability at high speed
• Helmet Certification: DOT Approved and ECE Approved and SHARP Tests
Shark Helmets® - Spartan 1.2 Kobrak Full Face Helmet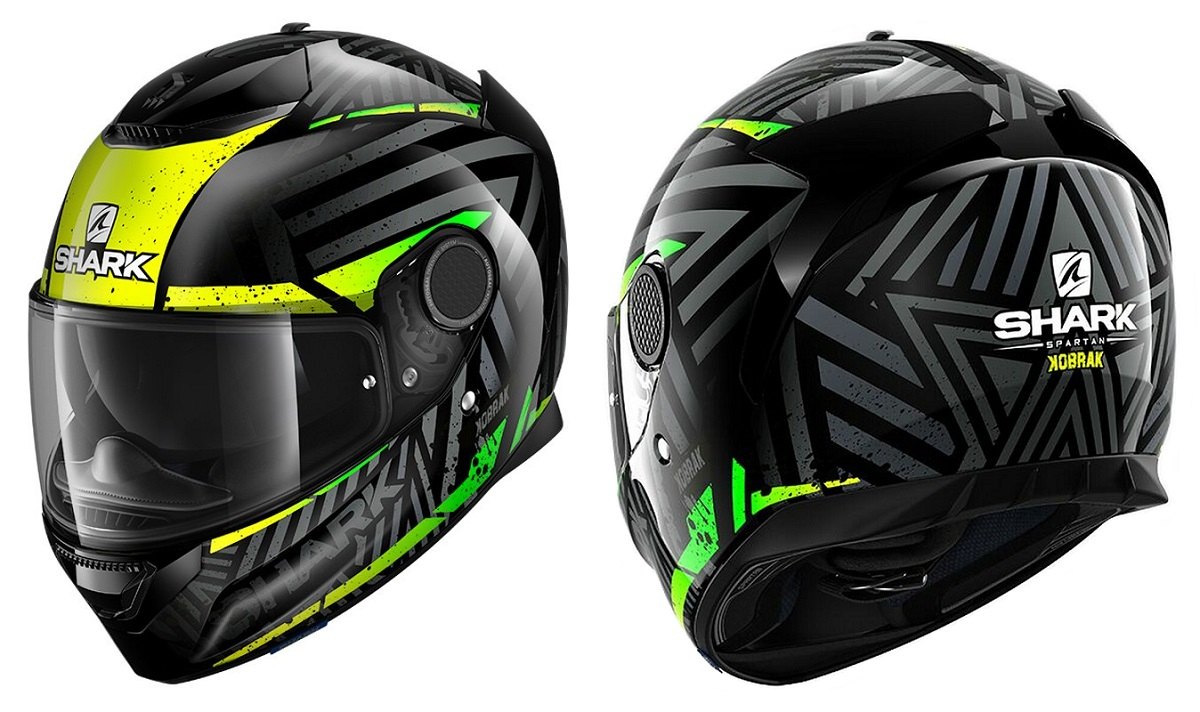 Features:
• Shell material: Composite, Fiberglass
• Helmet Certification: DOT Approved
• "SHARK SKIN" peak side fastening: active reduction of whistling noise
• Double spoiler with air extractors: optimization of the aerodynamic trail and internal cooling
• Pinlock® MaxVision® visor as a standard feature
• Integrated inner sun visor
• Ready for installation of the SHARKTOOTH® (or other) Wireless Entertainment System
• 5 Years Warranty
Click on the image to enter the product page at MOTORCYCLEiD.com for more information.
To browse the full catalog of Shark helmets, click the "Shop Now" button below:

If you have any questions, give our sales team a call at 888.903.4344 (Toll Free) or 1.732.867.9995 (International).​