Polaris Slingshot Forum
Welcome to SlingshotForums.net, the first and largest
Polaris Slingshot Forum
on the net. SlingshotForums.net is a community dedicated to the upcoming / rumored Polaris three wheel road vehicle. Our goal is to be a friendly community comprised of Slingshot owners and enthusiasts. To participate fully in the site all you need to do is register, it's quick and free.
​
Polaris has confirmed that its revolutionary three-wheel motor-vehicle, the Polaris Slingshot™, is making its European debut in Q4 2015.
Slingshot has been honed for the European market by U.S manufacturer Polaris and will offer petrol-heads a completely new motoring experience.
A recognised leader in the global powersports industry for over 60 years, Polaris designs, engineers and manufactures high quality all-terrain vehicles (ATV), including the Ranger and RZR side-by-side vehicles, snowmobiles, as well as Victory Motorcycles and the iconic Indian Motorcycle marque too.
Taking this extensive powersports experience, Polaris is writing a new chapter with Slingshot, delivering an entirely new on-road driving experience.
It's an innovative three-wheel vehicle with a high-strength steel space frame, a 2.4-litre four-cylinder engine and sport-tuned suspension with an open cockpit.
Slingshot Brand Manager for Polaris EMEA, Dario Baraggia, firmly believes that customers in Europe can expect to have a truly breathtaking experience from Slingshot ownership
. He says:
"Slingshot offers European customers something truly unique. It has exhilarating performance in a package that receives head-turning looks wherever it's driven.
"The USA has already discovered the thrill of Slingshot, so much that it is currently sold out with production filling back orders. We predict a similar trend here in the EU and will therefore open a pre-order process to give the first customers a chance to secure the first units coming to the EU."
Polaris Slingshot™ features include:
2.4-litre Double Overhead Cam Engine
5-speed Transmission
High strength steel space frame
Lightweight aluminium swingarm
Carbon fibre reinforced drive belt
Low weight
Low centre of gravity
Antilock Braking System
Electronic Stability & Traction Control
Forged Aluminium Roll Hoops
Distinctive Bodywork & LED Lights
Specifications, pre-orders and deposit...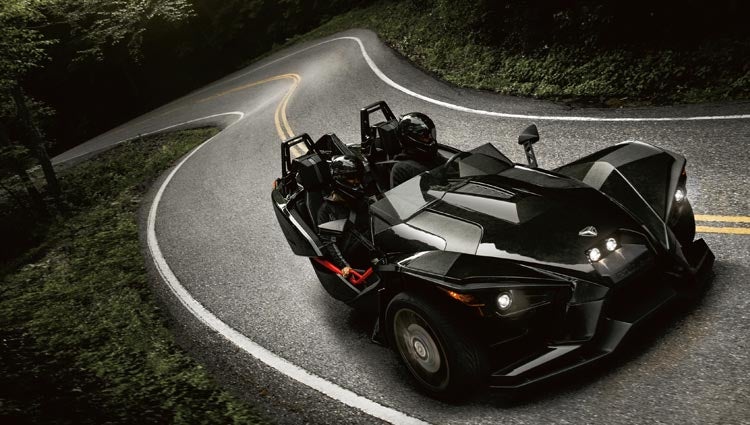 ​
Get ready for some darkness! Tonight Polaris has unleashed the new 2016 Polaris Slingshot SL Limited in Black Pearl with Indy Red Accents. More to come so stay tuned!
SL LE FEATURES
Limited Black Pearl Paint with Indy Red Accents
Shortened and Tinted Blade Wind Deflectors
Premium 18" Cast Aluminum Front Wheels, 20" Cast Aluminum Rear Wheel
Media Console: 4.3" LCD Screen, Backup Camera, 6 Speaker Audio System, Bluetooth® Integration
Interior LED Lighting Kit
After turning heads across the country in Red Pearl and Titanium Metallic, Polaris® Slingshot® is adding a striking new edition to its line-up – the Black Pearl SL Limited Edition – starting this August. Fans took to Twitter and Facebook asking Polaris to release a black Slingshot® and the brand delivered in a big way at the 2015 Las Vegas Dealers Show. In addition to its sleek new color, the Slingshot® Black Pearl SL Limited Edition features dramatic Indy Red color accents on its frame rails, coil springs and swing arm as well as black seats with grey accents. The new Slingshot® is packed with exhilarating features including a new low profile tinted blade windscreen that gives the vehicle a more aggressive look and an interior LED white and blue lighting package for an adrenaline-charged nighttime driving experience. Beginning in August, dealers will be receiving a limited quantity of this eye-catching model.
"The Black Pearl LE represents everything Slingshot stands for – exhilaration, innovation and head-turning design." said Craig Scanlon, vice president of Slingshot®. "With limited quantities available of this new Slingshot, we expect the demand to be huge."
The unique Slingshot® experience includes:
·A low, wide stance allowing drivers to feel the rush of pavement under the seat
·An open-air cockpit for a 360-degree rush of sight,...
​
Dear Slingshot dealer,
Thank you for your continued support and patience as we worked diligently to resolve Connecticut state licensure requirements. Our goal has been to get Slingshot owners on the road in Connecticut as soon as possible. Please find below an important licensure update. We look forward to partnering with you to grow a successful Slingshot business.
We are pleased to announce that on Friday, June 5th, Connecticut Governor Dannel Malloy signed a bill allowing the Polaris Slingshot to be registered and operated as an 'autocycle' in the state of Connecticut. The new bill will take effect July 1st, 2015.
Below is an overview of bill:
 Senate Bill 936 was sponsored by the Joint Transportation Committee
 Vehicle type: Autocycle
o "Autocycle" means a motor vehicle that meets the requirements of a motorcycle under 49 CFR Part 571
o Does not have more than 3 wheels in contact with the ground
o Is designed to be controlled with a steering wheel and foot pedals for acceleration, braking, or shifting
o Has a seat or seats that are fully or partially enclosed and in which the occupants sit with their legs forward
o Is equipped with safety belts, in accordance with section 14-100a, for all occupants
 Titling: An autocycle is considered to be a motorcycle
 Operation: Automobile driver license (Class D)
 Insurance: Same requirements as two-wheel motorcycles
 Helmets: Same requirements as two-wheel motorcycles
Registrants will receive a motorcycle license plate, but can operate Polaris Slingshot with an automobile license. Additionally, our recommendation is that all Slingshot drivers and passengers should wear a helmet while operating the vehicle at all times.
We thank you for your patience as we worked towards this resolution. Please contact your DSM with any additional questions.
Sincerely,
The Slingshot team
​
Join us for the 1st Annual Sturgis Slingshot Owners Ride as we take in the beautiful scenery and exhilarating roads of the Black Hills. Below you will find details regarding the day's events. Check in will commence at 3:00 PM and we will depart at 4:00 PM on a 70 mile trip through the Black Hills. The ride will end with a complimentary dinner at Murphy's Pub & Grill in Rapid City where you will be able to connect with fellow Slingshot owners and have the opportunity to meet the Slingshot leadership team. Register now to lock in your spot—you won't want to miss it!
Need help? Email us at
slingshotownersride@gmail.com
.
You can fill out the form here:
https://slingshotownersride2015.formstack.com/forms/ssownersride_com
Monday, August 3rd – Rapid City, SD
Check in:
3:00 – 4:00 PM
Rushmore Plaza Civic Center
444 Mt Rushmore Rd, Rapid City, SD 57701
Note: all drivers must present proof of current license and insurance to operate a Slingshot at check-in. All participants are responsible for their own vehicle and safety equipment, including helmets.
Ride
: 4:00 – 7:00 PM
Approximately 70 mile group ride through the Black Hills with lead and chase vehicles
Dinner
: 7:00 – 9:00 PM
Murphy's Pub & Grill
510 9th St, Rapid City, SD 57701
Enjoy a complimentary dinner, connect with fellow Slingshot owners, and meet the Slingshot leadership team.